Driving and operating heavy machinery is every boy's childhood dream, as well as being fire fighter etc. I try to keep in touch with my inner child and he has recently talked me into becoming a snow groomer operator.

I'm crazy about snow groomers, which I have already mentioned here. However taking photos and listening to their wonderful noise of mighty, 500HP Diesel engine was no longer enough.
I bought (and improved!) a lego snow groomer:
and even made snow-groomer Christmas cookies: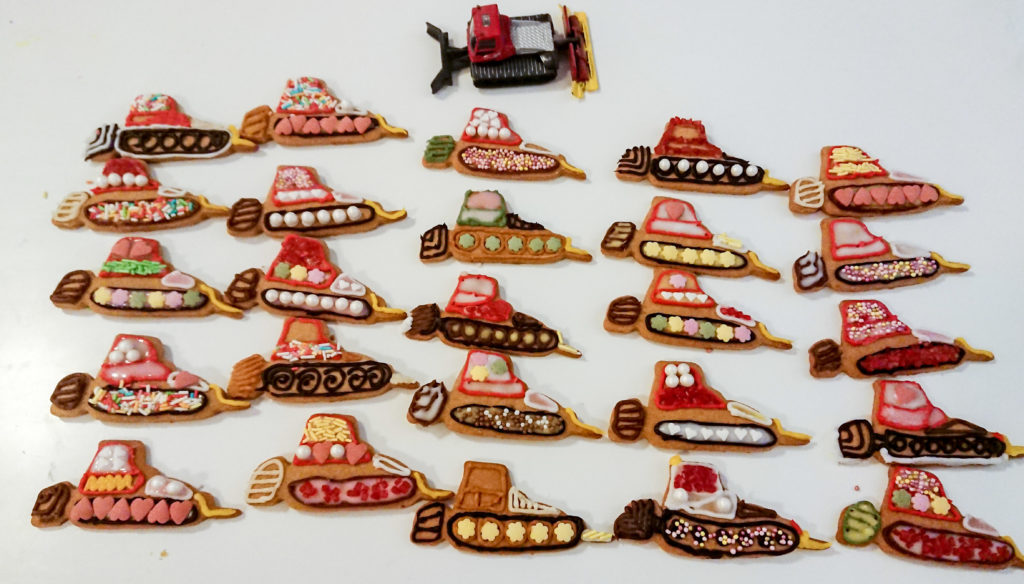 but finally I decided I need to drive one of these at last!
I started to follow Prinoth and PistenBully on social media and I finally they posted offers of training operator course. Pistenbully offered only theoretical, on-line training, while Prinoth offered a training in Italy, consisting of 3-hour theoretical part and 6-hour practice on slope.
I have enrolled for both of them. The Pistenbully one, like most courses, starts with a brief, historic outline of the slope preparation. "The first attempts of machine preparation of slopes dates back to the 1920s," etc 🙂 But I hope that eventually it will help me to learn the vocabulary and technical issues, so I don't look completely lame when I show up for the course at Prinoth. Being lame is rather inevitable, I just try to minimize that impression 😉
The course in Italy will take place on January 29th and I'm very excited about it. The photos of the past courses look ecouraging (source: Prinoth Facebook fanpage)
And this is how he driving school groomer looks like that (I'm literally drooling):
There is not much chance for me to become an actual snow groomer operator, but I already have fun with learning new things and upcoming opportunity of driving an actual groomer myself.
But first things first. The history…
(Source of photos of vintage groomers: pistenbully.com and prinoth.com.)