I have recently had the opportunity to visit the the Wipptal region, located in Italy, just behind the Brennero pass (FYI: there is also"Austrian" Wipptal).
The central point of the region  is the town of Sterzing / Vitipeno, where – by the way – the Leitner / Prinoth production plant is located.

The ski resorts within Wipptal region are:
– Rosskopf / Monte Cavallo
– Ratschings / Racines Giovo
– Ladurns.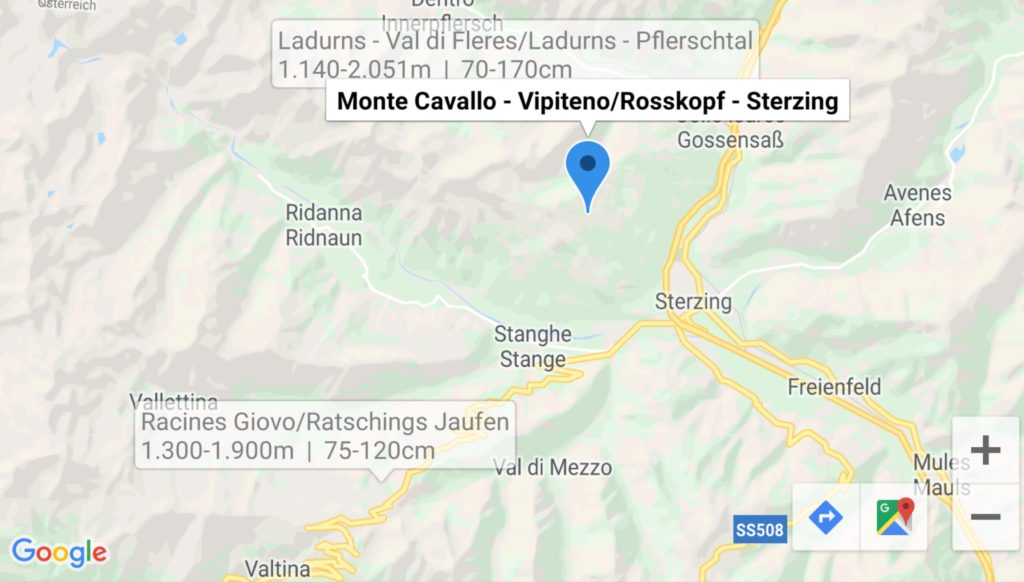 They are not large (up to 20km of slopes) or significantly elevated (1000m-2000m above sea level), but they have very pleasant, wide slopes.
This is probably the first large region in which we will not encounter a single, red PistenBully snow groomer. All snow groomers are Prinoth's, just like all the lifts it are Leitner's 🙂
The town of Sterzing aka Vipiteno (the northernmost town in Italy) does not look nice, the area is actually quite bad: the highway and industry. However, it has a nice, historic, main street where people can socialize. I searched for some information about the town's history, but nothing important happened here. It is, in fact, over 1000 years old, but among all famous people who stayed here, I heard only of dr. Mengele…
The region is definitely German-speaking – the Italian language is spoken by less than 1/4 of the local population. Interestingly, 0.4% use the LADIN language, which – as I have read – is the language of the indigenous population of the Italian Dolomites.
In the town itself there is the Rosskopf / Monte Cavallo resort. We take off from the valley with a gondola. There are some nice slopes above the tree line and a long slope down to the vallley. This resort is the only one with a southern exposure, which on the one hand gives a pleasant sushine, but slightly shortens the season.
And here's skiing from the top all the way to the valley:
Within a 10-minute drive from Sterzing we reach the resort of Ratschings / Racines Giovo. It is very similar to the first one: we take off from the valley with a gondola, above the tree line we find several wide, but not too long slopes and there are two long slopes down to the valley.
And here's the skiing from the top to the bottom:
The last resort, also located about 10 minutes away from Sterzing, is Ladurns. There are fewer slopes here, but they are not crowded and there's no queue to the lifts.
There is no gondola, there are only two chairlifts, but it is a cool place for one day. Due to the specific location, this resort is the least sunny.
And here's the "talfahrt" 🙂
Summarizing:  I evaluate the trip as a very successful one, especially because I luckily got good snow conditions.
As a "pros" I would mention:
– location (no need to drive far into Italy and pay for the highway)
– very nice, enjoyable slopes
– slightly lower prices
– great food
– free parking at the resorts (there is also a indoor garage in Ratschings, but I did not check if it's paid)
– no crowd nor queues
– close location of all resorts around Sterzing
Cons:
– low altitude (there is always a risk that there will be a snow problem; shorter season)
Cheers:)