Skiing in July? Why not? After last year's adventure in Zermatt this year, I decided to check what Austrian glaciers have to offer in summer.

In 3 days, I visited 3 glaciers in three Austrian federal states: Kitzsteinhorn (Salzburg), Mölltaler Gletscher (Carinthia) and Hintertux (Tirol).
The smallest of the above – Kitzsteinhorn – was the first one. In summer the number of open slopes is down to one, 400-meter long piste near the summit.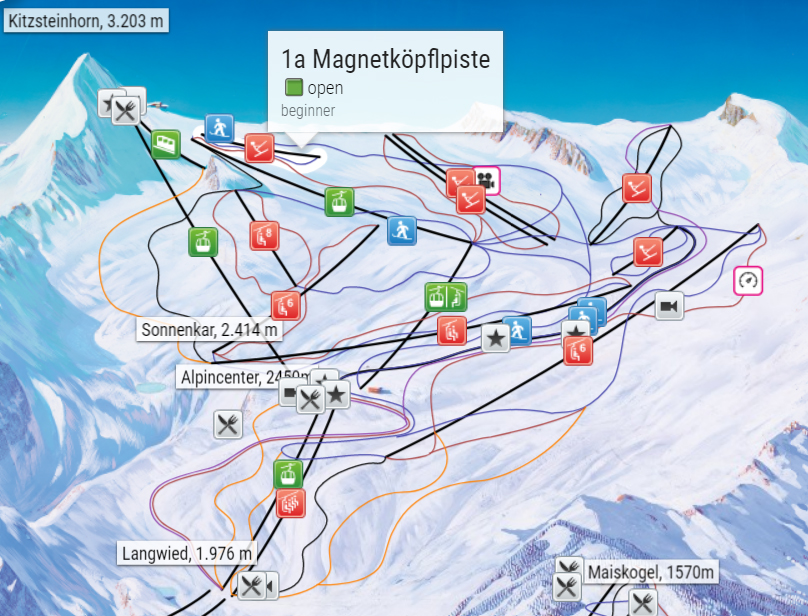 Taking into account the price of the carnet (42 euros) it is probably the most expensive resort in the world, counting the price for 1 km of the slope, even considering that the ticket gives us access to the restaurant, panorama platform and sledge slope… 400-meter slope does not provide great experiences – the resort itself advertises it as a place for "equipment testing " and "photo sessions", because there is no serious skiing. Indeed in the morning there are many instructors and people learning, also some kids in trainings. Around 12.00 it gets empty and you can have entire slope and the slow T-bar lift for yourself…
Summing up: if you are a recreational skier and would like to learn to ski or try summer skiing while spending your holiday in Austria, and then astonish your friends who at the same time were sweating on the beach, then Kitzsteihorn is perfect 😊
Kitzsteinhorn:
Opened: June / July
Slopes lenght:  0.4km
Opening hours: 8.15-14.30
Skipass price: 42 euros
Video summary:
The second glacier visited was the Mölltaler Gletscher in Carinthia. Getting to it is a bit troublesome – firstly with a narrow and bumpy (as for Austrian standards) road, then by underground funicular train and finally by gondola. On the glacier itself there are theoretically 3 slopes in operation:  1 red and 2 blue ones (with a length of about 1km each), but the distinction into two blue slopes is rather symbolic. The blue one is also quite steep – only the bottom part is slightly lighter.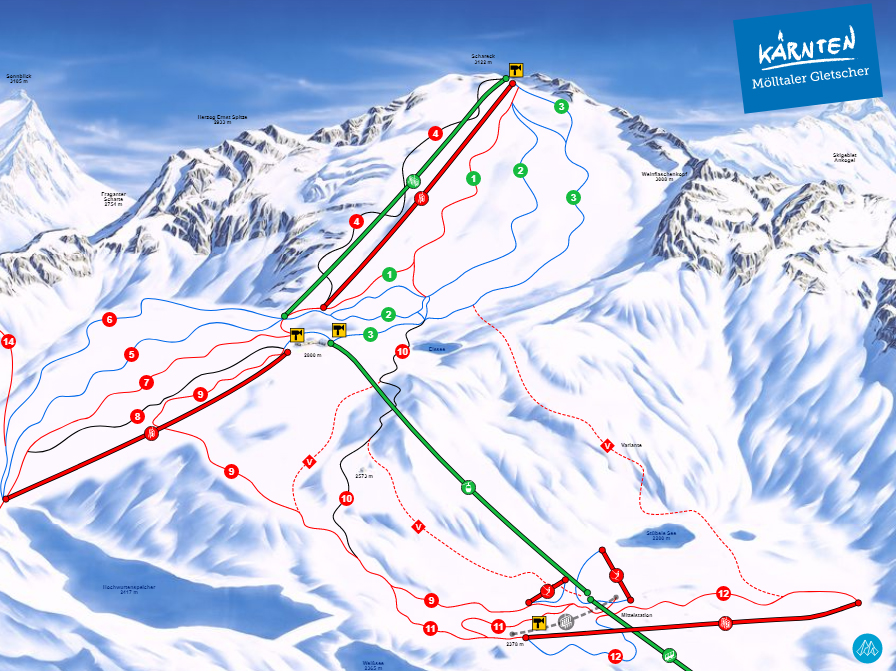 Slopes are served by a 6-person chairlift, which takes you to a supposedly beautiful panorama with a view of highest Austrian summit – Grossglockner. Why "supposedly" – my photos explain…
The resort is open all year round, although during the summer you need to observe the snow cover, so that you do not get into skiing on a bare, ancient ice …
Summing up – a very enjoyable ride, though quite monotonous in the long run.
Mölltaler Gletscher:
Open: all year
Slopes lenght: 3km
Opening hours: 8.00-14.00
Skipass price: 49 euros
Video summary:
The pearl of Tyrol – Hintertux – I left for the end, because this is the resort I know and I could ski there blindfolded. As for the middle of July, the conditions were exceptionally winterish, with -2C and snowfall in the morning, and light (though very warm) sun and 10cm of powder in the aftrenoon. Hintertux is open all year round and about 18 km of pistes are open,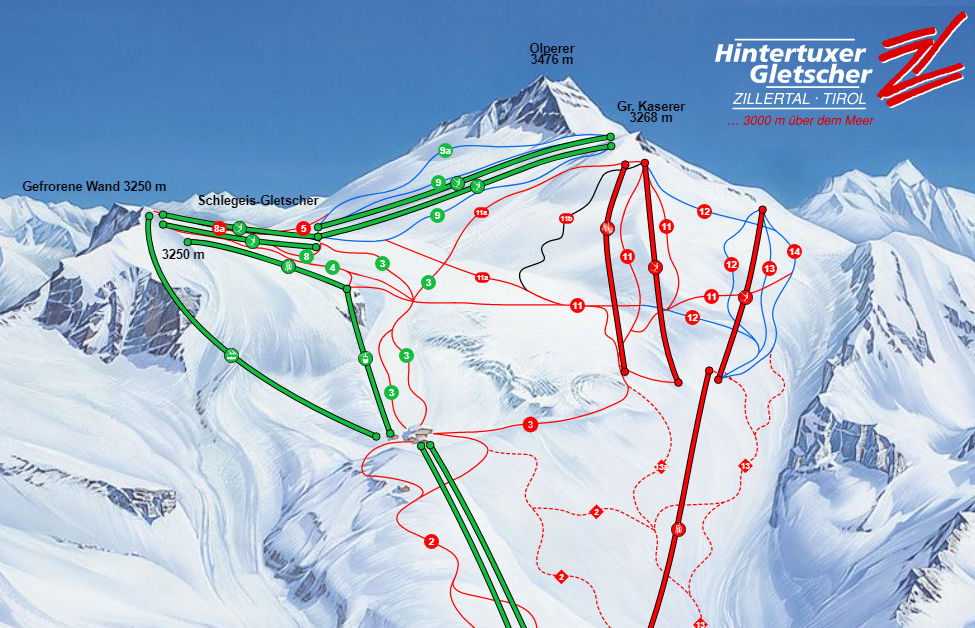 although the later summer, the more I recommend to be careful and check the snow conditions. You can find the perfect conditions (like me in August 2016) or ski on bare, melting ice (like me in August 2017). As a rule, in September the snow starts to fall again, and the winter season starts from October, however drought can also happen here (like in 2018). An event called "Powder days" was supposed to take place in October 2018. A lot of "freeriders" showed up with their funny, wide skis, and they all had to struggle on icy slopes with snow groomer operators desperately trying to spread the remainings September snowfall around…  In July, however, the conditions are generally decent and in my opinion, Hintertux offers ubeatable  views (though visibility of 30m is probable as well).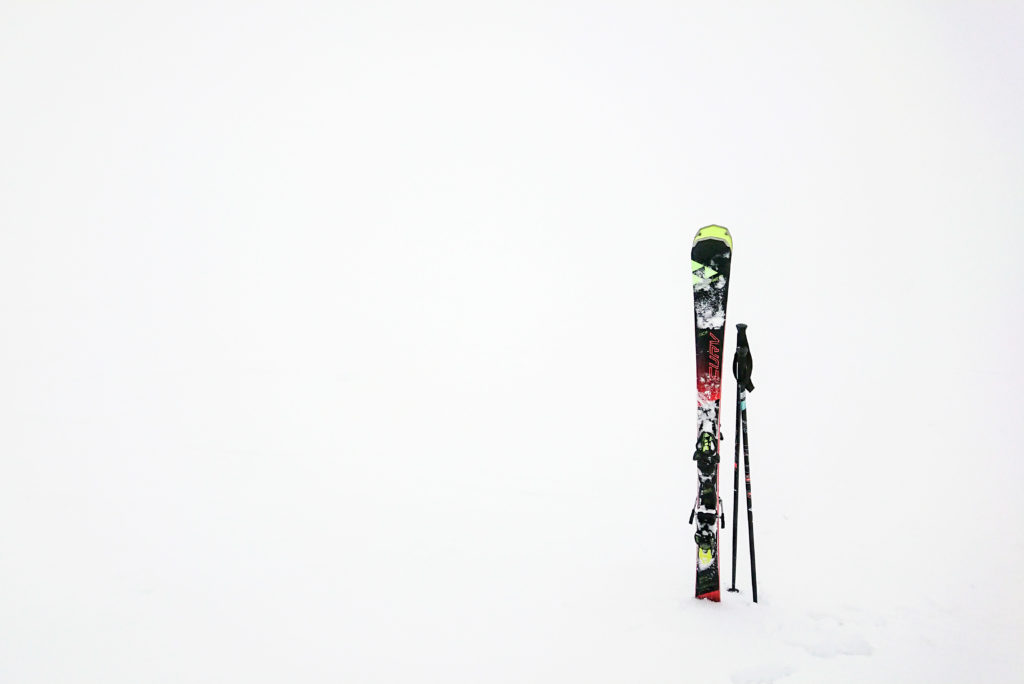 An additional attraction is the opportunity to visit the inside of the glacier on a guided tour. This year I was closer to this than ever before – I even asked about the price and time of the trip :P. The resort is served with two gondolas, a 2-person chair lift (a nice option for a warm, sunny day) and T-bar lifts. In the morning some of the slopes are occupied by athletes and from around noon it gets empty. The snow gets wet and soft in the course of the day, but this is July, so … we do not complain! 😊
In summary – the largest number of lifts and routes, and a valley with a large accommodation and catering base makes it my favourite resort.
Hintertux
Open: all year
Slopes lenght: 20km
Opening hours: 8.15-16.00 (T-bar lifts up to 13.30)
Skipass price: 46 euros
Video summary: