As I mentioned some time ago, I am really fond of snow groomers. Having an office job in a Forbes Top 10 worldwide corporation, the vision of spending every evening in a roaring machine, shifting the snow around, is a really tempting one…
Therefore I decided to taste at least a bit of the snow grooming job and I looked for some commercial opportunities to drive a snow cat.

The entire adventure took 3 steps.
The first stage was the theoretical on-line course provided by PistenBully. Taking part in it turned out to be extremely useful. The entire course is an interactive presentation with basic information about how the a snow groomer is built, how it works, and what the basic rules of driving are. It also provides information about preparing ski slopes, handling snow, safety rules and the most common mistakes. It ends up with two steps which provide opportunity to verify the knowledge and are rather impossible to fail…
That information turned out to be very useful during the second stage, which was riding in a snow groomer as a passenger. I signed up for an evening sessions of snow grooming in the Prinoth Leitwolf's passegers seat in Špindlerův Mlýn (Czech Republic). Thanks to the theoretical course, I was more or less aware what the operator was doing, why he did particular maneuvers, what he did with snow, etc. It was valuable, as my driver was not very talkative;)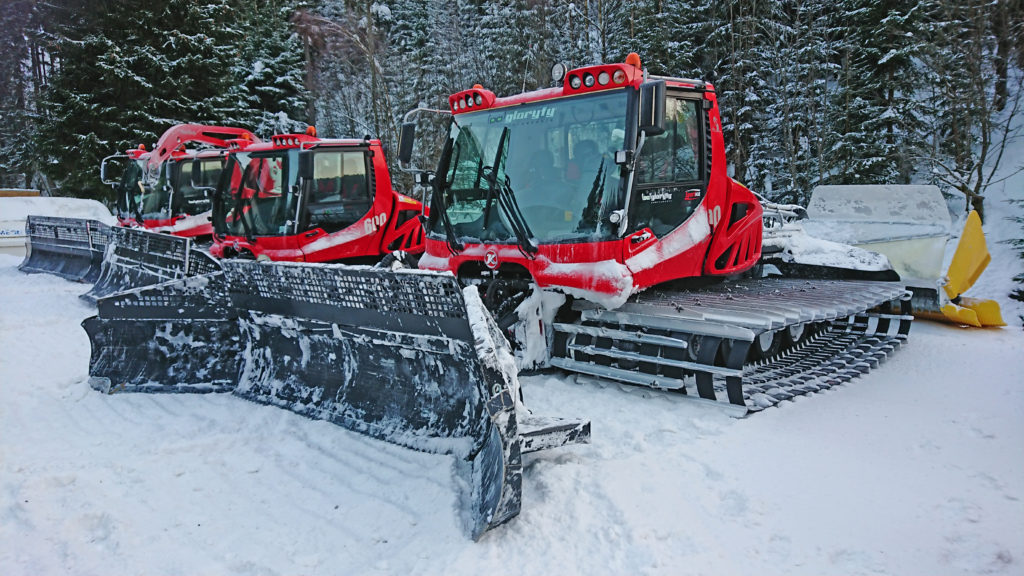 The final stage was the very training at Prinoth in Italy and it turned out how valuable my online training was. Training in Italy was also supposed to be preceded by theory, but my trainer turned out to be a man of action, not a Power Point master, so he ran quite briefly through slides ("Health and Safety <click> Health and Safety <click, click> you know, Health and Safety is important <click, click>"), and then, with growing enthusiasm, he took me to a company canteen for dinner, then for a tour on the production shop, and finally the to the slope in Ladurns.
On the very slope, he introduced me to the majestic Prinoth Leitwolf, and then we drove to the slopes to prepare the snow for the next day.
Driving a real snow groomer turned out to be much nicer than I imagined. The steering itself was not complicated, but the big challenge for me was continuous control on the blade at the front and the tiller at the back.
It was nice to ride with the awareness that I was preparing a slope for skiers who would shred my corduroy in the morning.
And here's video summary of riding and driving around the snow cat.
What's the next step of this spectacular snow groomer operator career?
Well, probably nothing, but you never know 😉